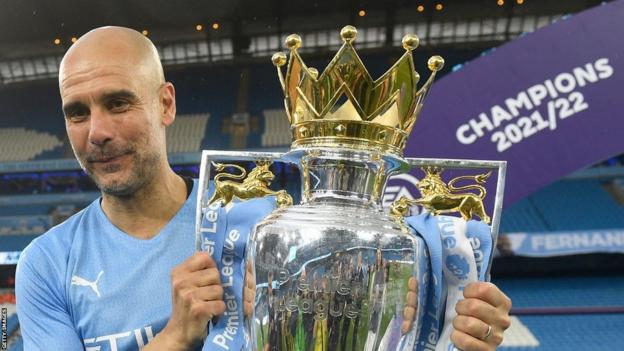 Pep Guardiola says he "could not ask for anything else" if his career ended tomorrow – but the Manchester City manager is not ready to stop yet.
The Spaniard, 52, is chasing a fifth Premier League title with Manchester City and a potential Treble.
A win at Fulham on Sunday would put City top, with the Champions League semi-finals and FA Cup final to come.
"I am fortunate and privileged. That is my feeling," said Guardiola. "Why should I stop?"
The former Spain and Barcelona midfielder is in his seventh season as City manager, during which time he has also won the FA Cup once and the League Cup four times.
They are two points behind leaders Arsenal in the Premier League, with two games in hand, while defending champions Real Madrid stand in their way in the Champions League semi-finals and Manchester United await in the FA Cup final.
"Fighting for the titles at the end of the season is the best feeling," Guardiola said.
"I know if we don't win the Treble or win the title people will see it as a failure season, but that doesn't matter. I expect that. The important thing is we are there. It depends on us.
"We cannot deny how exceptional it would be to win another title. It is done when it is done. And it is not done."
Guardiola joined City in 2016 and led them to the Premier League title in his second season in charge.
He said: "I like to be here because we have the chance to make people happy, not for the history. What is that? When you move on, you move on. That is all.
"I am more than grateful to have lived my life with these incredible players."
'I am married but I love him' – Guardiola on Gundogan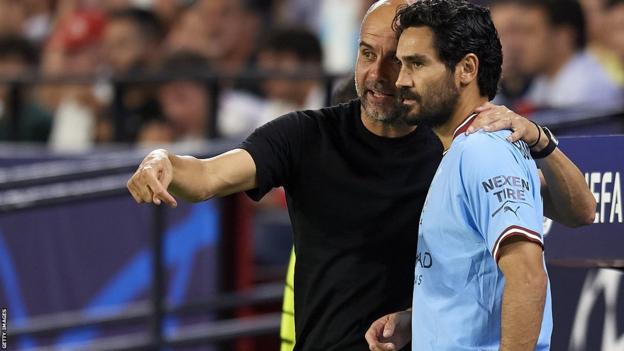 Guardiola also spoke about his "love" for Germany midfielder Ilkay Gundogan, who was his first signing as City manager but is out of contract in the summer and has been linked with a move to Barcelona.
The 32-year-old joined from Borussia Dortmund for £20m in June 2016 and has gone on to score 54 goals in 296 appearances.
"He is one of the exceptional players in all senses," said the City boss of Gundogan, who played a key role in the club's domestic treble – of the Premier League, FA Cup and League Cup – in the 2018/19 season.
"I love him. I adore him. I am married, but I love him."
Latest Manchester City news, analysis and fan views
Get Man City news notifications
References : https://www.bbc.com/sport/football/65434595