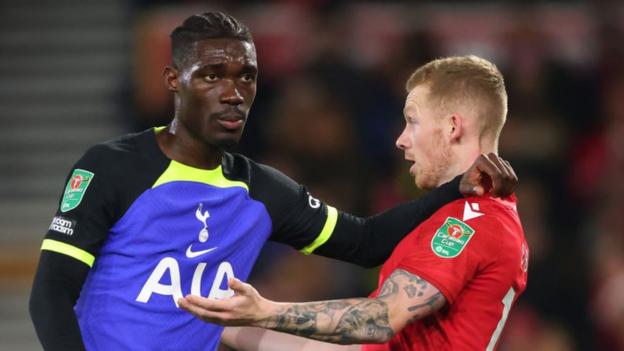 In an ideal world, Lewis O'Brien would be preparing to face Brentford this weekend and trying to give Nottingham Forest another push forward in their Premier League survival fight.
He might also have been looking ahead to Blackburn's Championship encounter with Luton on Monday and, potentially, going one step further than he managed last season, when he lost in the play-off final at Wembley with Huddersfield.
Instead, he will be playing for US side DC United in their Major League Soccer encounter with Charlotte.
Had Wayne Rooney not stepped in with a loan deal to 16 July, the midfielder would have been unable to play for six months after a registration issue that meant his January deadline day move to Blackburn did not go through in time. This was compounded by the arrival of Jonjo Shelvey at Forest completing Steve Cooper's 25-man squad.
"I have no malicious thoughts about anything that has gone on and I don't hold a grudge," O'Brien, who only made 13 league appearances after his £10m summer move from Huddersfield to Forest, told BBC Sport.
"Who in their right mind would turn down an opportunity to play in the Premier League? No-one. It is every boy's dream from the minute they say they want to play football. There are no regrets from the minute I signed until now and there never will be.
"Sometimes things don't go the way you want. You have to take a pit stop somewhere else and get yourself back on track."
Latest Nottingham Forest news, analysis and fan views
Get Reds news notifications
Listen to the latest Shut Up And Show More Football podcast
Adjusting to MLS after 'tough' time at home
O'Brien has not been told why his Blackburn loan failed to complete in time, but has been assured Rovers did want him.
In the month afterwards, as Blackburn launched an ultimately unsuccessful appeal, O'Brien trained back at Forest, knowing there was no chance of him playing.
"I'm not going to say it was all fine," said O'Brien. "It was a tough time.
"Up to that point, my career had gone up and up and up. I had played every single game and even being on the bench was tough to take.
"Every day I sat waiting for an answer after training. My family, my mum, my dad, my fiancee dealt with the brunt of it when I got home. I wasn't in the best of moods."
Once the EFL dismissed Blackburn's appeal, O'Brien's thoughts switched to the United States.
With Rooney and his assistant Pete Shuttleworth, there was a strong English link. His loan to DC United, which gives the MLS club an option to buy, was confirmed on 20 March.
O'Brien made his debut on 9 April and scored the winner against Montreal the following weekend.
This week's US Cup win against Richmond means DC United have won three successive games for the first time since October 2020. On Saturday they entertain a Charlotte side containing English duo Ashley Westwood and Nathan Byrne, hours after Forest visit Brentford.
"The standard is a lot better than people in England think," he said.
"People in the UK don't watch it, so they will never know. They just assume it is where players go to retire or go at the end of their careers. It is not like that at all.
"Some of the players you have never heard of, but they are unbelievable. Technically, they are some of the best I have ever seen."
O'Brien still sees Forest future
It remains to be seen what the future holds for O'Brien.
While remaining in the USA is an option, it seems far more likely he will return home for pre-season.
Whether that will be at Forest is uncertain, but he still thinks he has something to offer despite the club's mass recruitment campaign.
"I backed myself," he said. "I knew there were reasons why I had been signed and there are also reasons why other players were getting signed. I knew I was a different type of player to the ones who were coming in and those we already had. You just have to try and impress when you get on the pitch every day. Unfortunately, it didn't work out.
"I am really grateful to Wayne Rooney and DC United but, personally, I want to prove I can be in the Forest team and I can play in the Premier League every week. I want to be the player they signed.
"I still watch all the games and speak to some of the lads. It is tough. Any newly-promoted club will find it tough. It is almost a different game, not even football.
"Now it is head down and graft it out. It might be we finish one place above relegation. But you have to do what you have to do to stay up."


Our coverage of Nottingham Forest is bigger and better than ever before – here's everything you need to know

to make sure you never miss a moment

Everything Forest – go straight to all the best content