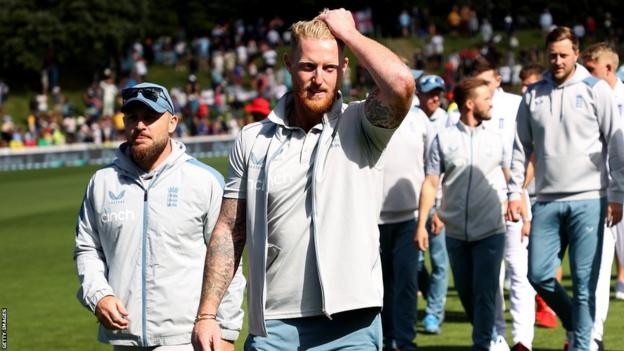 England captain Ben Stokes will take a safer tactical approach against Australia this summer compared to the one seen against New Zealand, says former skipper Sir Alastair Cook.
Stokes opted to enforce the follow-on on day three of the second Test in Wellington with England leading by 226.
New Zealand scored 483 in their second innings to set a victory target of 258, with England then losing by one run.
"I don't think he would take that risk in the Ashes," said Cook.
Speaking to BBC Radio 5 Live, Cook added: "He knows that at the end of the series it is whether Ben Stokes is an Ashes-winning captain or not, and so I don't think he would have enforced the follow-on if it was an Ashes Test match.
"But his reasons for it were that they had the wood over the New Zealand top order and that New Zealand had to play really well to win.
"He also wants to see what happens to his team in different situations. Last summer, they chased 370 against India and afterwards he said he wished India had scored more so he could see if his side could chase 450.
"So he does think about things a different way, but when it gets to the crunch of an Ashes series I think it will be slightly different, but not much."
Stokes 'blessed' to be a part of thrilling NZ defeat
After the Bash at the Basin, bring on the Ashes
Stokes said he had no regrets about his decision because New Zealand had to play "pretty much the perfect game" to win. The Black Caps became just the fourth team in Test history to secure victory after being asked to follow-on.
For England it was just a second defeat in 12 Test matches under the leadership of Stokes and coach Brendon McCullum, having gone nine matches without a win before their appointment last summer.
Cook said their bold, fearless approach had revolutionised the way Test cricket was being played, adding that he expected that to continue against Australia, even if certain tactical decisions were changed.
"There has been such a turnaround that you have gone from fearing for England to thinking they have got a really, really good chance of winning the Ashes and playing some unbelievable cricket along the way," said Cook, who captained England between 2012 and 2018.
"Ben and Brendon have to take a huge amount of credit for that attitude change. It is the same group of players that are delivering a totally different style. They have fundamentally changed what is acceptable in Test cricket."