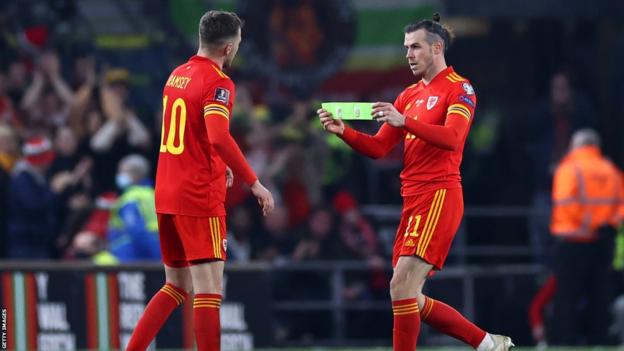 Wales boss Rob Page says Aaron Ramsey's desire to join Wales' 100-cap club has influenced his decision to continue his international career.
Ramsey has replaced the retired Gareth Bale as Wales captain, and is the most-capped outfield player in the squad after Chris Gunter retired along with Joe Allen and Jonny Williams.
Page says Ramsey, 32, never considered following his team-mates in retiring.
"It's the right thing to give him the armband, he deserves it," Page said.
"He's been through a lot for Wales over the years, the important goals he's scored for us.
"Aaron is going to lead us now, he's been part of this group since day one."
Gunter, Bale and goalkeeper Wayne Hennessey are the only Wales men's players to have reached a century of caps.
"I think it could be a motivation for any player, you would want that milestone of getting to 100 caps," Page said.
"But for me I've got to strip the emotions out of it. I've got a world-class footballer – and on his day he is definitely a world-class footballer – and I'm going to use him while I've got him.
"He is still capable of winning games of football for us and could help us qualify for the Euros."
Wales begin their European Championship qualifying campaign with a trip to face World Cup semi-finalists Croatia on Saturday, 25 March, before hosting Latvia at the Cardiff City Stadium on Tuesday, 28 March.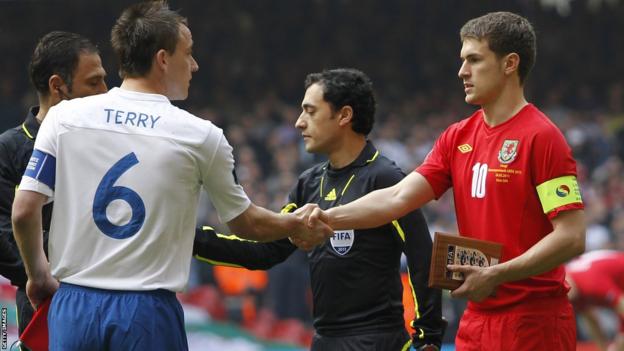 Ramsey will lead Wales into a campaign for the second time, as he was initially named as Wales captain by the late Gary Speed, but Chris Coleman replaced Ramsey with Ashley Williams as skipper in 2012.
Over a decade later, Page says the honour of leading Wales means a huge amount to the Nice midfielder, who was "hurt" by the decision to take the armband off him earlier in his career.
"All the experience he has had in between, it makes him better equipped," Page said.
"That was part of my reasoning as well, I was a supporter myself then, watching it all unfold.
"I've been a captain all my life and to have been given the armband and then had it taken off you would have maybe hurt him a little bit.
"He's in the right time of his career now to go and represent Wales and lead the boys and show those young players what it is all about, what it means to represent your country, and he is relishing it."
'He will absolutely deliver'
Page says Ramsey is already making his presence felt as Wales captain.
"He's been on the phone to us every other day," he said.
"He constantly wants to challenge things and asks how we can make things better.
"He's really enjoying the role and has embraced every minute so far of being the captain.
"He was really appreciative of it, it means the world to him.
"He was in France at the time with his wife when I broke the news to him and he was elated, and he sent me a lovely message afterwards saying how proud he was for him and his family.
"That's why I know he's going to step up to the plate and absolutely deliver."
Page admits he will have to monitor Ramsey's playing time, but says that did not influence his captaincy decision.
"Can he play at the top, top level, two consecutive games in a week? Probably not, we will have to manage that," Page said.
"He will put himself forward to do that but as a manager I'm paid to make these decisions and I'll make decisions that are right for the group.
"But with his quality, I've said this in the past, I would pay to watch him train.
"He's incredible and while he is still playing top football he's got a lot to give us and we are going to hang onto him for as long as we can."
Wales boss Page, who announced his squad earlier in the day, said Nottingham Forest forward Brennan Johnson is fit for selection after being withdrawn as a precaution in Forest's defeat to Tottenham.

Elon Musk's Twitter Storm: Find out how the new owner is transforming the company

Are eco laundry products better for the environment?

Greg Foot investigates how such claims come out in the wash…