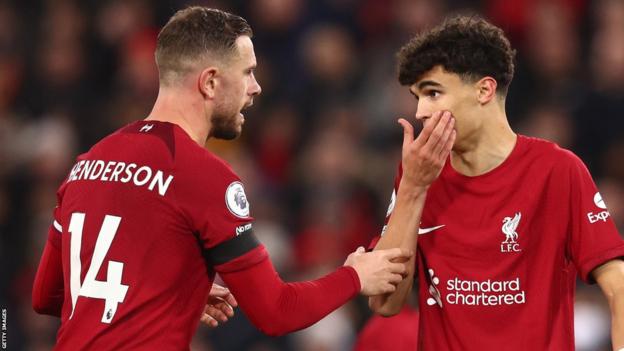 Liverpool boss Jurgen Klopp says that even "if there's only a one percent chance" of his side overturning a 5-2 deficit at Real Madrid that he "would like to give it a try".
The Reds led 2-0 in the first leg of their last-16 Champions League tie against Real before going on to lose.
The return leg is at the Bernabeu on Wednesday.
"I said three weeks ago, Madrid with their result are through to the next round," said Klopp.
"Now we are here three weeks later and we know there's a game to play.
"If there's only a one percent chance, I would like to give it a try. We're here to play an extremely strong opponent and try to win the game.
"As difficult as it is, it's not likely, but possible. For that, we are here, we'll see where it leads us to."
Liverpool will be without midfielders Jordan Henderson and Stefan Bajcetic for the game in Spain.
Henderson has been ruled out through illness while 18-year-old Bajcetic has a thigh injury.
"Stefan, it's a stress response in his adductor, which is absolutely bad," said Klopp.
"He doesn't feel a lot but he is now out for I don't know exactly how long.
"We have just to let it settle and then we will see when he can come back."
Liverpool to 'closely monitor' Doak after head clash
Since the first leg, Liverpool beat Manchester United 7-0 only to lose 1-0 at relegation-battling Bournemouth in their next game, summing up what has been an inconsistent season.
They are sixth in the Premier League and have suffered seven of their eight top-flight defeats away from home.
"If we can surprise ourselves in a negative way we should be able to surprise ourselves in a positive way as well," added Klopp.
"But it's clear, we're not here telling Madrid, 'be careful, we're coming' – that's not the situation we are in."
Real striker Karim Benzema missed his side's league win against Espanyol on Saturday but is fit to face Liverpool.
"The message is quite simple: not to assume," said Real Madrid manager Carlo Ancelotti.
"The players understand that I think it will be an open match as Liverpool come here trying to change the dynamic.
"We have to do both things, attacking and defending, properly. We will not just defend, we are thinking about the attack."
He added: "From a psychological level, the match is more complex for us than Liverpool.
"Liverpool come here to give it their all and do their best from minute one, whatever happens. We saw that from the first leg.
"We will try to do all we can from the beginning but we have more questions than the opponent."