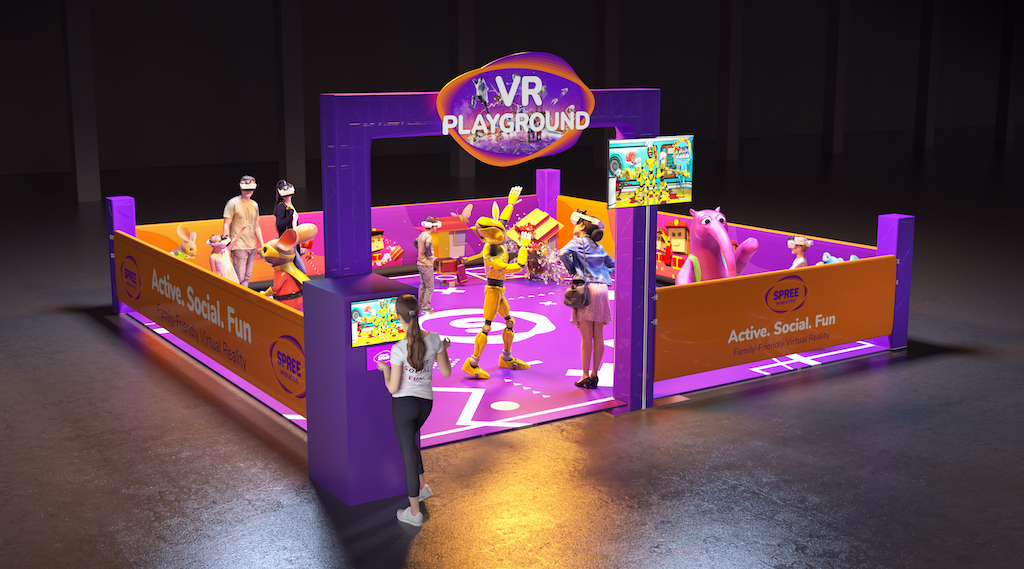 SPREE Interactive, a leading provider of active free-roam VR experiences, is attending DEAL 2023 this week in Dubai, where it has partnered with ASI to showcase its new VR Playground, alongside a new family-friendly shooter game called Splish Splash.
The newest version of the award-winning multiplayer free-roam VR Arena and the new tropical island shooter game have both attracted attention at the show and received positive feedback. The VR Playground is built to fit in a small area and optimise profitability. For family entertainment centres (FECs) aiming to capitalise on the lucrative 6–12 market, it is the ideal addition.
Meeting the needs of FEC owners
The VR Playground has a full library of family-friendly games and makes use of cutting-edge HTC Vive Focus 3 headsets. It has been designed to encourage repeat play and is available in 10-player, 6-player and 4-player configurations, fitting in a space as small as 30 square meters (340 square feet).
"We are excited to see such an amazing reception for the launch of the VR Playground and Splish Splash at the DEAL Expo show," says Jonathan Nowak Delgado, CEO of SPREE Interactive. "Our team has worked tirelessly to design a product that meets the demands of FEC owners and delivers an unparalleled experience for players. The VR Playground is an exciting addition to any venue and we are confident that it will be young and old." 
The VR Playground and its collection of kid-friendly games can be customised to fit any venue's needs and budget thanks to its various sizes and inviting arena spaces. By scheduling a meeting in advance, DEAL expo attendees can avoid the line and play the VR Playground and the kid-friendly shooter game Splish Splash at SPREE Interactive's booth, 2-B29.
SPREE Interactive will also be attending Amusement Expo International (AEI) 2023 later this month, where it will showcase its solutions and take part in a panel discussion.