Undefeated British light-heavyweight Joshua Buatsi has signed a long-term agreement with promotional company Boxxer.
The 2016 Olympic bronze medallist was previously signed to Matchroom Boxing.
Buatsi's fights will now be shown on Sky Sports and his first bout with his new promoter will be on 6 May at Resorts World Arena in Birmingham.
"I want to get the biggest fights on the biggest, most accessible platform for sports fans," the 30-year-old said.
Matchroom Boxing fights are streamed on the DAZN app, while Boxxer has an exclusive agreement with Sky Sports.
Buatsi says the lure of fighting on traditional television, rather than a subscription-based app, was the main reason he switched promotional companies.
Speaking at Wednesday's media event at Boxpark, in Croydon, he added: "I'm not going to tell you to download an app and type in your email and bank details. Type in the TV channel and you can watch me fight."
Ghana-born Londoner Buatsi has won all 16 of his fights since turning professional in 2017, but has been out of the ring since beating Craig Richards on points in May 2022.
"It was a hard fight," he said. "I asked myself, how many people watched it? I don't think a lot of people saw it.
"For the blood and sweat I shared in that fight, it's important people can watch it."
'I want to get my hands on the belt'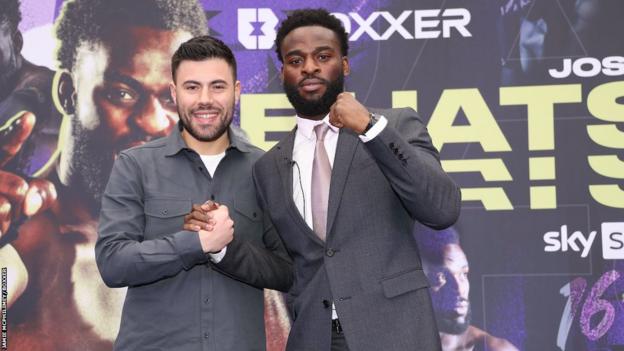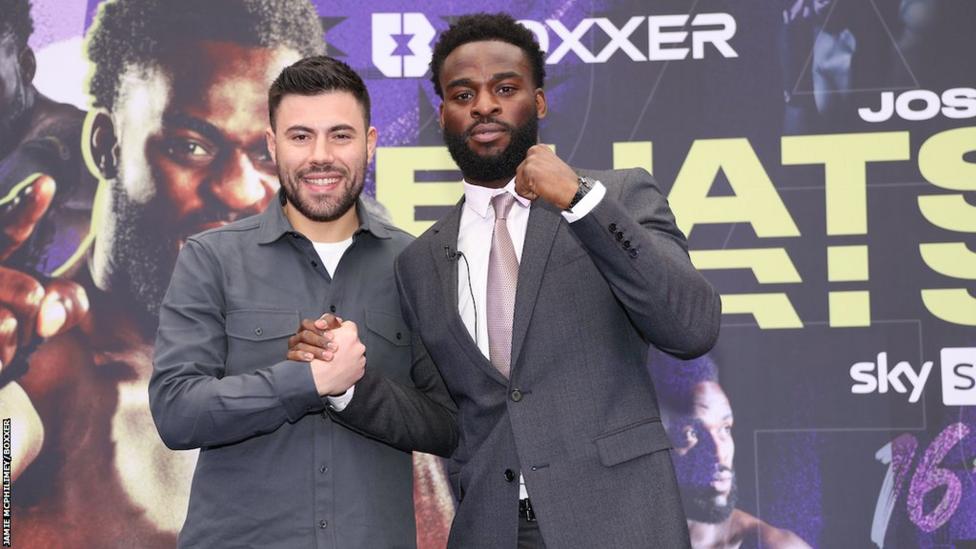 Buatsi – a standout amateur who also won two national English titles – was considered one of the brightest prospects in world boxing when he turned professional.
Inactivity, partly down to injury and the Covid pandemic, stagnated his progress. But the former British champion, who is ranked number one with the WBA – with Russian Dmitry Bivol the WBA 'Super' champion – says he is targeting a world title.
"I'm top three in three of the governing bodies," added Buatsi. "It's about manoeuvring myself in the right way so that I can become [a] mandatory [challenger].
"There's not a specific name, I just want to get my hands on the belt."
Shalom believes Buatsi will "bring major nights and titles" to British boxing, adding: "He doesn't want to duck anyone. He wants the biggest test and wants to be recognised for it. We can 100 per cent deliver on that."
Buatsi's signing could set up a clash with Dan Azeez, who won the European light-heavyweight title on Saturday with victory over Frenchman Thomas Faure in Paris.
As Buatsi took his seat, he asked: "Where's Dan Azeez? I just saw him. Dan, lift up your hand. We have to big up Dan. Europe's latest champion."
Buatsi has also been heavily linked with fighting fellow Londoner Anthony Yarde.
Yarde, who lost to unified world champion Artur Beterbiev in January, is signed to Frank Warren's Queensbury Promotions, meaning promotional differences would need to be overcome for that fight to be happen.


Release or detain?

A raw documentary goes inside the high-stakes world of parole hearings

What's life like with an electronic tag?

Follow four youngsters whose every move is monitored