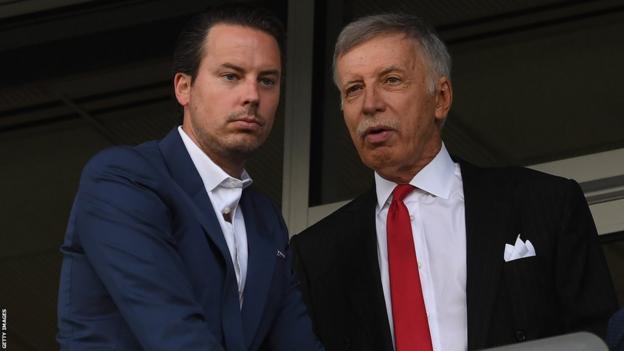 Arsenal owner Stan Kroenke and director Josh Kroenke have been appointed co-chairs in a boardroom restructure.
Tim Lewis also becomes executive vice-chair having been on the board as a non-executive director since 2020.
Stan Kroenke, 75, acquired a 9.9% stake in Arsenal in 2007, becoming majority shareholder in 2011 and assuming 100% ownership in 2018.
The American said the changes "further reaffirms our family's long-standing commitment to this great club".
Josh Kroenke is Stan's 42-year-old son and was appointed a non-executive director in 2013.
In a statement Stan Kroenke added: "Stability in football has never been more important as we move past the [Covid] pandemic, and we believe this is the perfect time to formalise these roles.
"Our objectives and ambition will never waver – to field teams that compete for trophies at the highest level and lead our club in a way that inspires our passionate supporters around the world."
Arsenal are currently five points clear at the top of the Premier League with 11 games remaining as they seek a first title since 2004.
Latest Arsenal news, analysis and fan views
Get Gunners news notifications
Listen to the latest The Far Post podcast


Our coverage of the Gunners is bigger and better than ever before – here's

everything you need to know

to make sure you never miss a moment

Everything Arsenal – go straight to all the best content