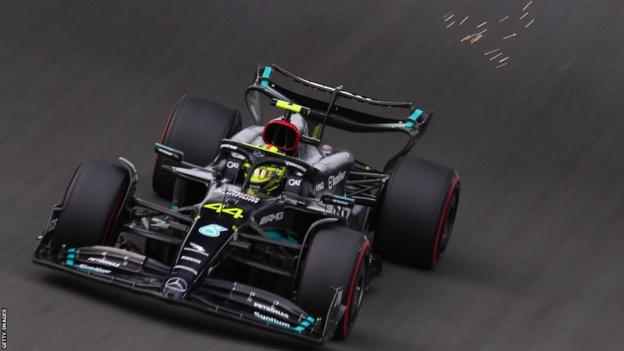 Lewis Hamilton says he is "at a bit of a loss" with this year's Mercedes car.
The seven-time champion qualified eighth fastest at the Saudi Arabian Grand Prix, four places and 0.366 seconds behind team-mate George Russell.
Hamilton said: "George did a great job and is right up there on the second row. The car obviously has performance.
"I just don't feel connected to this car. No matter what I do, no matter what I change, I can't get confidence in it. I'm at a bit of a loss."
Hamilton admitted that his lack of performance was "mostly me" and that he was struggling in the high-speed corners around the lap of the Jeddah street circuit.
"In the high-speed, the car is a little unstable on my set-up," Hamilton said. "It is a little different [to Russell's]. There is one thing I did differently. Maybe it will be OK for [the race] tomorrow but less so for today."
Team principal Toto Wolff said: "Both different drivers need a car, with a certain behaviour, to drive fast, and [for] Lewis at no time this car has given him this season any feedback that allowed him to push to the limit.
"And if you haven't got that car underneath you, sector one [of the lap in Jeddah] you can never push it fast through the corners. [The time loss] is all sector one and George just drives around it and is able to have more confidence in the car."
Perez on Saudi GP pole as Verstappen 15th after issue
How to follow the Saudi Arabian Grand Prix on the BBC
How Saudi Arabian Grand Prix qualifying unfolded
Will Hamilton stick it out?
Hamilton's future has been the subject of discussion this weekend after Wolff raised the possibility that his driver could leave the team if they were not able to provide him with a competitive car in the next couple of years.
But Hamilton said leaving Mercedes was not something he was considering.
"I am not focused on that," he said. "I love this team. I am so grateful for everyone who has been on this journey with me. I don't envisage being anywhere else.
"I don't see myself quitting. I don't feel like I am a quitter. But I don't feel like it's giving me a lot. But I am trying to be patient and work with the team and get us to a good place. I am not planning on going anywhere."
He added: "There is no such thing as can't. At the moment it definitely feels like I couldn't get any more out of the car today but I will keep trying."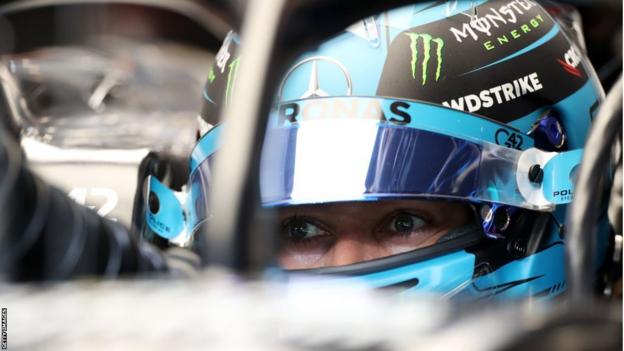 Mercedes' hope to progress this year
Russell will start the race third behind Sergio Perez's Red Bull and the Aston Martin of Fernando Alonso, because Ferrari's Charles Leclerc, who qualified second, has a 10-place grid penalty for excessive usage of engine parts following a reliability problem in Bahrain two weeks ago.
Russell said he was "really pleased" with the performance which was "a lot more than we could have expected coming into the weekend".
"I was feeling good here," he said. "The car has been feeling good, the weakness is just the lack of overall downforce.
"We did a lot of work. I was back in the factory working hard in the simulator, and that's what I am most satisfied about. But we know globally we have a lot of work to do."
Mercedes have admitted that they have made a mistake with their car this season but Wolff said that having changed development direction they were "making really big steps with our R&D and understanding".
"We just needed the confirmation we got it wrong and now we have that," Wolff said. "Is it realistic to even talk about the championship? No, it's not. You're a fool if you think that way.
"But it's motor racing and you must never give up and if we continue to make the big steps we have done in the last 10 days then we can come to a stage where we are really able to race for wins [this year]."
Russell added: "We want to be winning races this year. Of course we would love to be fighting for the championship but Red Bull have just done an excellent job and the gap they have to the rest of the field is bigger than we have seen in F1 for six, seven, eight years. It's pretty impressive."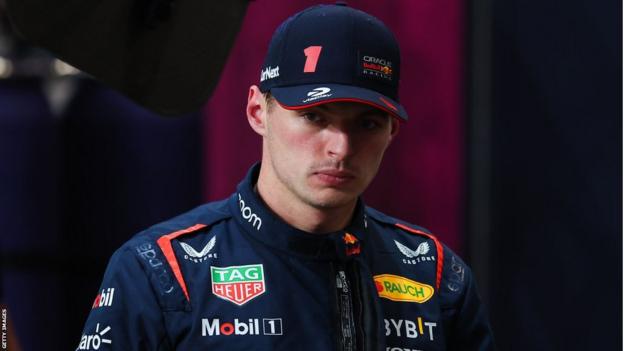 Can Verstappen win from 15th?
Russell was just under 0.6secs off Perez's pole time, and Mercedes were realistic that world champion Max Verstappen would have been significantly further ahead again had his car not suffered a driveshaft failure on his first lap in the second qualifying session.
Verstappen, who won from 14th at last year's Belgian Grand Prix, said he thought that fighting for a win would be "tricky".
But Russell said he believed Verstappen would "come through pretty comfortably" and Wolff said he would not be surprised if the Dutchman won the race.
"He has so much pace," Wolff said. "If he has a second in hand or more a lap, I think he can do it."
Alonso said he did not think he could challenge Perez for the victory.
"I think we are not in that position yet," the Spaniard said. "I think on pure pace Red Bull is in another league and we have to concentrate more on the teams behind. I think our race is behind.
"I think Max will come eventually in the race. Tomorrow there is no doubt he will be in the podium probably – minimum. This is not our goal.
"But Max was probably in his league today and could not complete the qualifying with a mechanical issue. So even if we focus on our mirrors and try to keep the people behind if anything happens in front we will try to take the opportunity for sure."
Russell said there was "no reason" why he could not fight for a podium, for which the battle between him, Alonso and the Ferrari of Carlos Sainz and the second Aston Martin of Lance Stroll is expected to be close.